BINH DUONG IGNITES – CONNECTS – ANEW DEVELOPS
On March 25th, 2023, the World Trade Center Binh Duong New City (WTC BDNC) was proud to support the event "Binh Duong: Launch – Connection – New Development," organized jointly by the Binh Duong People's Committee and Becamex IDC Corp. at the Binh Duong Convention & Exhibition Center (BCEC). The event was hosted by the Deputy Prime Minister of Vietnam, Mr. Le Minh Khai, and leaders from various Vietnamese Ministries, as well as Binh Duong province and nine other provinces.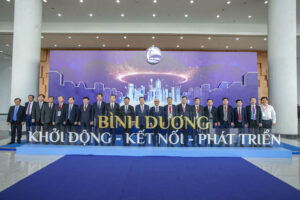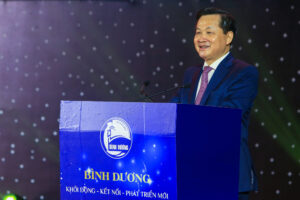 Mr. Le Minh Khai – Secretary of the Party Central Committee – Deputy Prime Minister of the Socialist Republic of Vietnam spoke at the event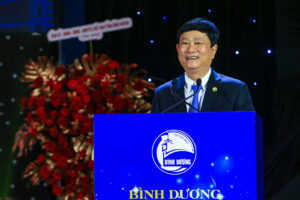 Mr. Vo Van Minh – Deputy Secretary of the Provincial Party Committee. Chairman of Binh Duong Provincial People's Committee speaks at
Mr. Le Minh Khai expressed his satisfaction with Binh Duong's progress in fulfilling the requirements set by the Government, highlighting its potential to become a center for knowledge, economy-finance, modern industry, urban area, and services in the Southern Key Economic Region (SKER) and throughout the country. He also praised the province's efforts to create a new ecosystem that meets the needs of investors and employees, reflecting the government's dynamic and flexible approach to growth. Binh Duong's development model is expected to serve as an example for other provinces and cities to follow.During the event, the Binh Duong People's Committee granted investment certificates to six enterprises, including five foreign-invested projects worth 176.1 million USD and one domestic-invested project with a total investment capital of 120 billion VND. Moreover, there were several MoU signings, including agreements between the Provincial People's Committee and Sun Group, FPT Corp. on digital transformation, tourism development, recreation and entertainment, real estate, and infrastructure investment, among others. Becamex IDC Corp. also signed an MoU on industrial cooperation research and development with nine provinces in Vietnam and a strategic cooperation agreement with Deo Ca Group on the development of transport infrastructure in the near future.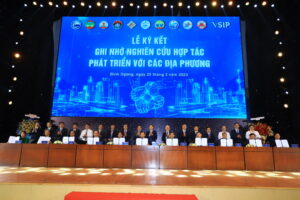 Signing Ceremony of Memorandum of Understanding on Research and Development Cooperation with localities
Overall, theevent showcased Binh Duong's potential and its efforts to create a vibrant and dynamic economy that can serve as a model for other regions to follow.