VIMF 2023 AT WTC EXPO BINH DUONG NEW CITY
IMF 2023 – Vietnam Industrial & Manufacturing Fair took place successfully at WTC EXPO Binh Duong New City from June 21 to 23, 2023, covering 15,000 sqm with 470 booths from 340 prominent international & domestic exhibitors. This event attracted more than 15,000 visitors from different regions and countries
VIMF – Vietnam Industrial & Manufacturing Fair is an international industrial exhibition in the form of a roadmap held in the Industrial Complex and we connect supplies of machinery, parts, equipment, technology and process solutions necessary for the automobile, electronics, machinery, textile, footwear, and high-tech industries to related manufacturers.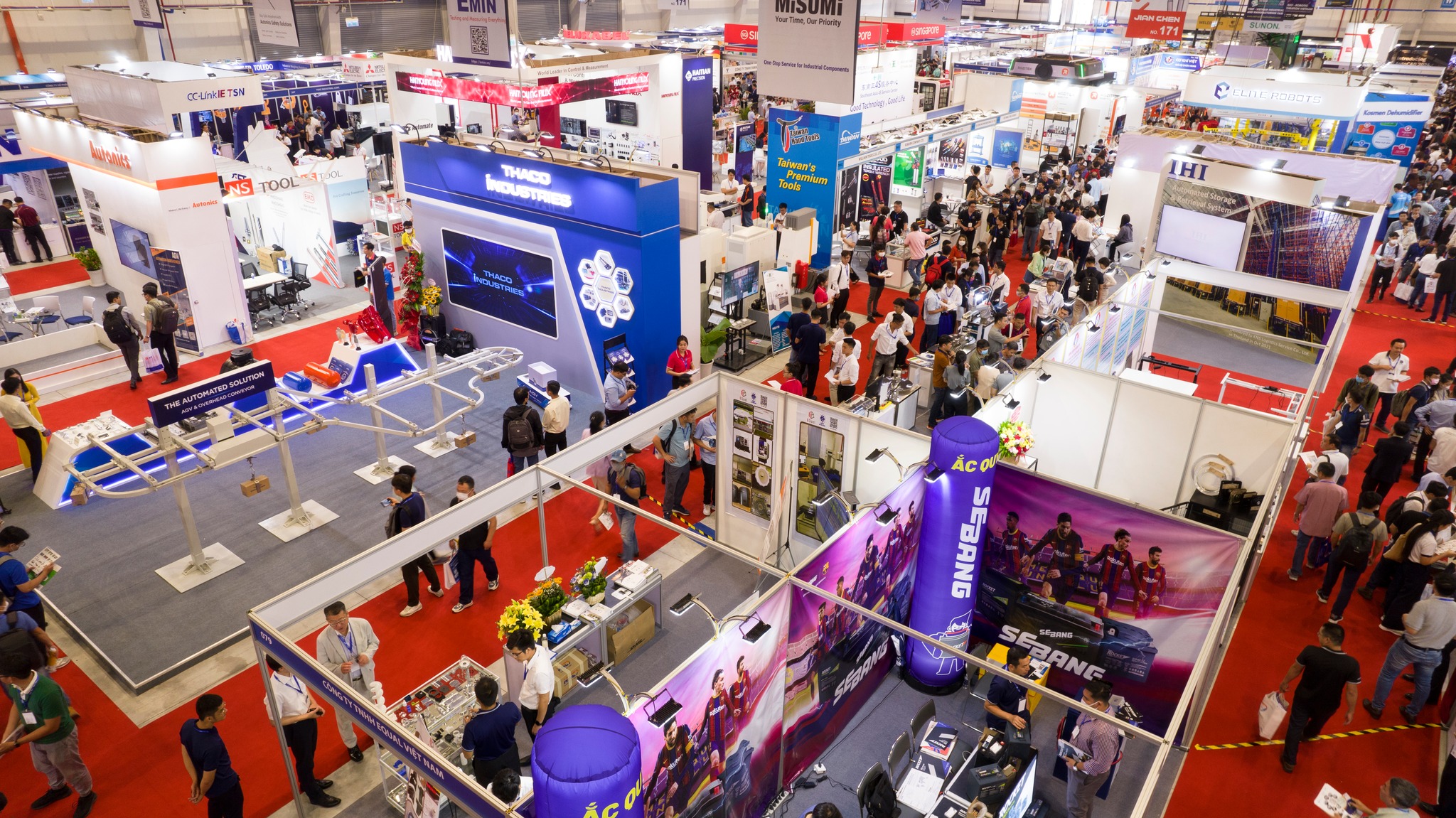 This year, there are many famous brand names to introduce new products and technologies at VIMF/VIAF 2023, such as Mitsubishi Electric, Thaco Industries, Thinh Qua, Autonics, Emin, Halukabel, Dat Tech, Fluke, Prostech, Irobo, Ricoh, Hanyoung, Beckhoff, Mitutoyo, Brothers, Hatian, Jian Chen, Dongabestech, Yamazen , Techdata, Elite Robot.
Notebly, VIMF 2023 brought practical insights into the latest strategies, tools, trends in the fields of machine tools and metalworking, measuring and measuring tools, 3D design printing, metalworking sheet types, manufacturing software, tools and tooling systems, contract manufacturing, welding and coating to enhance and maximize productivity and operational efficiency in manufacturing and supporting industries
Mr. Cao Tan Luc, CEO of OMGs said that innovative technologies play a crucial role in meeting the demand for high-quality, precise manufacturing across all industries. He is delighted to observe consumers' excitement and pleasure when exhibitors & guests have new chances for cooperation.. In the future years, business and production business activities will be promoted. The VIMF exhibition demonstrates not only the resiliency of industries and supply chains, but also the aspiration to take production to new heights.
Let's look at the impressionable number at VIMF 2023
𝟑𝟒𝟎 exhibition units with nearly 𝟓.𝟎𝟎𝟎 exhibited products
𝟒𝟓𝟎+ booths from 𝟐𝟎+ countries and territories
𝟏𝟓.𝟗𝟔𝟖 visitors
𝟏𝟎 conference slots
𝟐𝟓𝟎 networking session
𝟒𝟎+ media/newspapers