SORA GARDENS SC OFFICIALLY OPENS ON JULY 28
On July 28 (Friday), BECAMEX TOKYU Co., Ltd. officially opens SORA gardens SC (Shopping Center), bringing a new place for shopping and entertaining to the citizens and visitors to Binh Duong New City.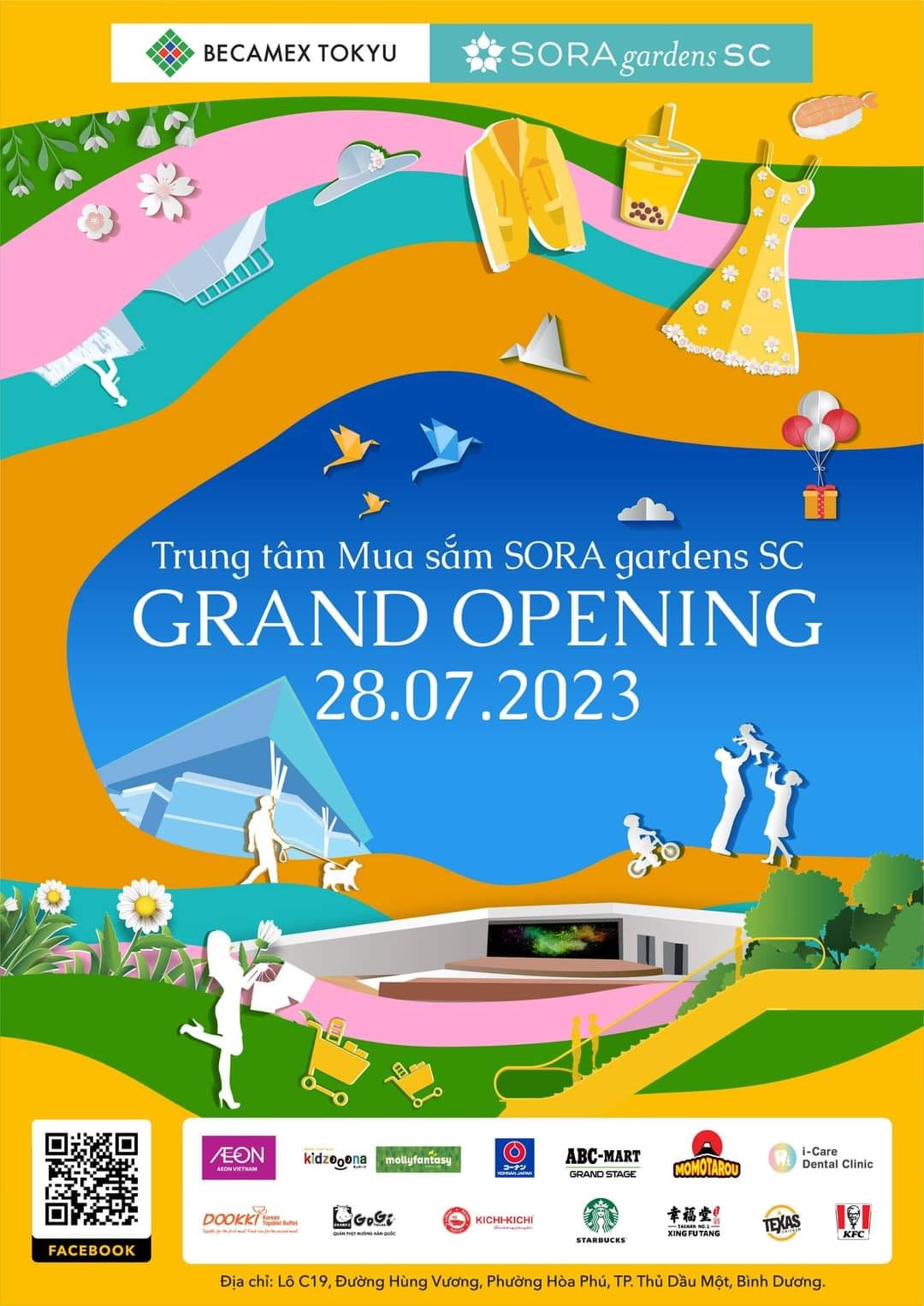 Being well-located on Hung Vuong Street at the entrance of Binh Duong New City, with total leasing area of nearly 15,000m², a parking capacity of up to 2,500 vehicles, SORA gardens SC is the first shopping center of the city, satisfying the customers' demands in shopping, dining, and entertaining with several facilities from big names including:
AEON GMS and Supermarket, Glam Beautique healthcare and beauty chain, ….
Shopping: KOHNAN JAPAN home center, No.1 multi-brand shoe store in Japan ABC-MART, authentic gacha and figure brand MOMOTAROU, …
Entertainment: The new and modern game center kidzooona & mollyfantasy, …
F&B area with many popular brands like STARBUCKS, KFC, DOOKKI, GoGi house, KICHI-KICHI, TEXAS CHICKEN, XING FU TANG, …
Healthcare: i-Care Dental Clinic
And many more tenants to open in 2023.
Carrying the concept of "Coloring your life", SORA gardens SC not only features diverse service, shopping and entertaining spaces but also holds many events and activities that bring new experiences and amusement to any customers who come to Binh Duong New City.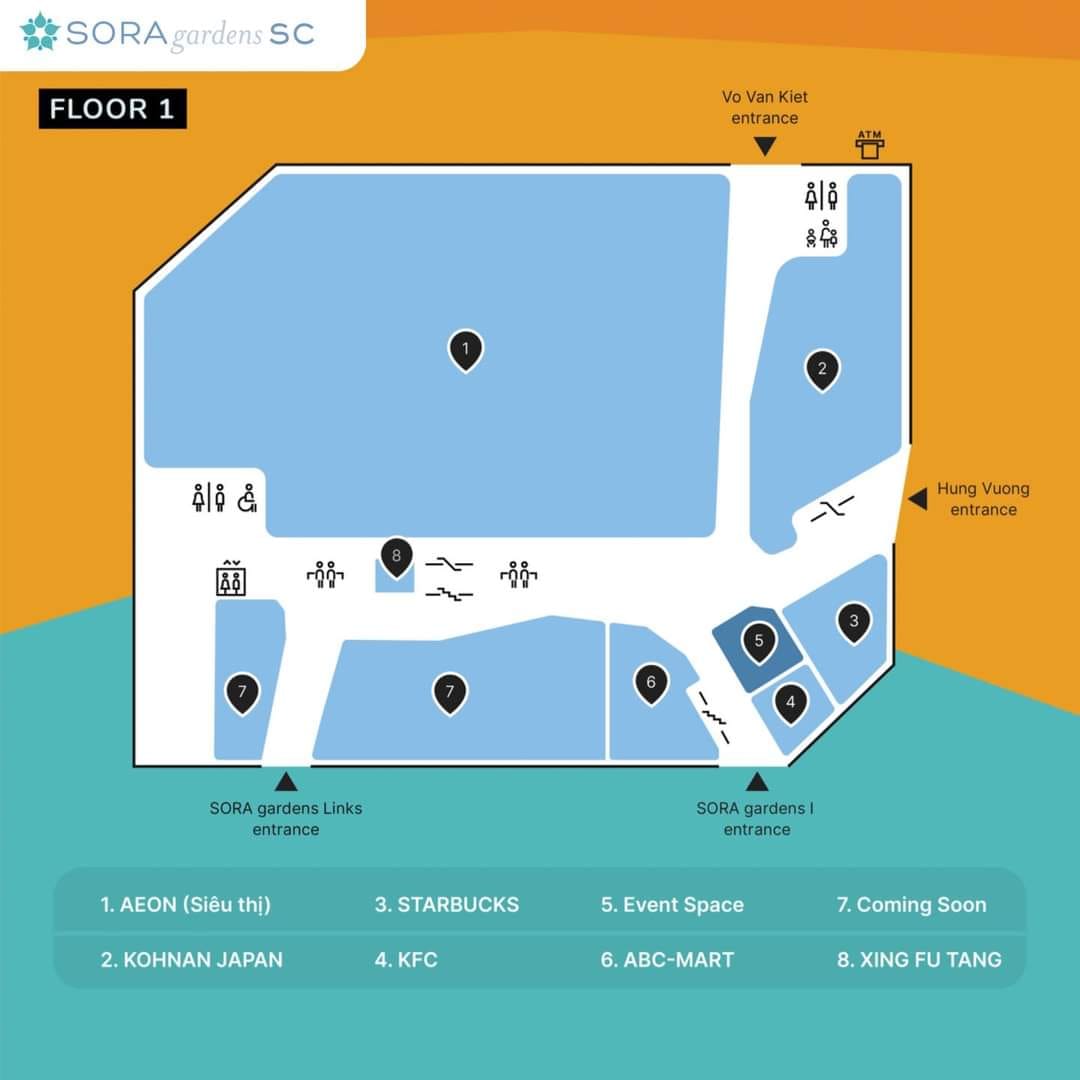 The design of SORA gardens SC combines the concepts that resemble the indirect lighting of the Japanese traditional "Kumiko" and "Shoji" screen at many spots inside the mall, and the outdoor part and wide glass walls also enable the customers to feel the sunlight and breeze from outside. Besides, so as for families with kids to enjoy the most convenient experience at SORA gardens SC, we utilize the Japanese know-how in shopping center operation with features such as implementing nursery rooms or kids' restrooms.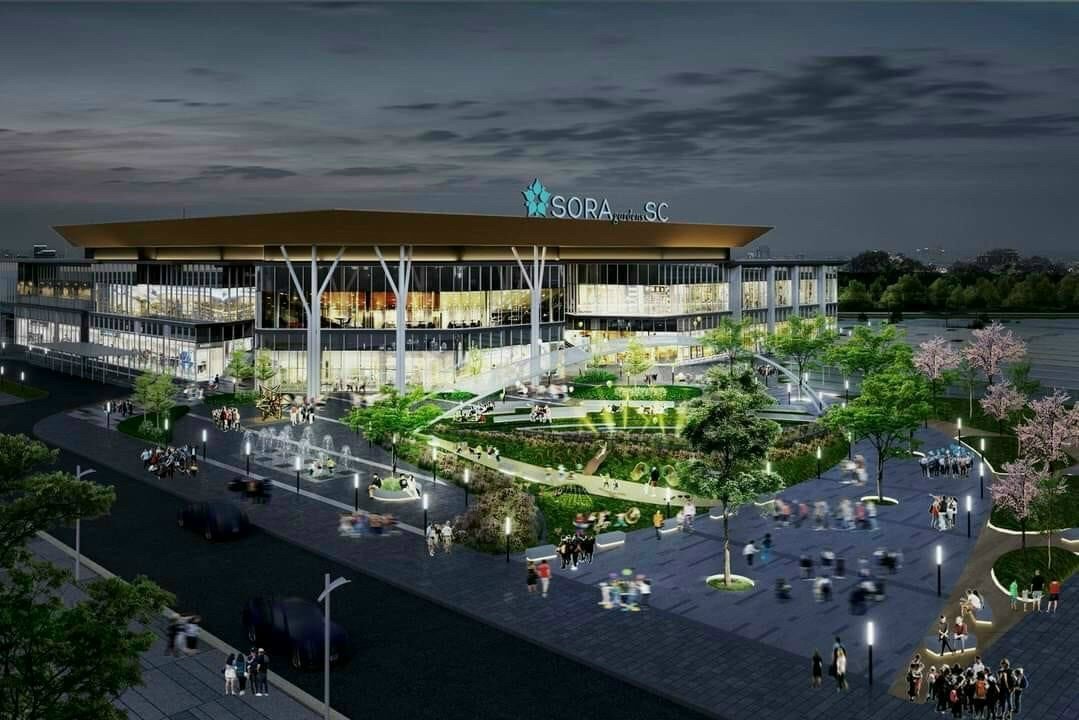 Moreover, not only there is an outdoor event square with a large LED screen in front of the shopping center where many different events in collaboration with the local and other tenants will be held, there is also "SORA gardens Links" (opened in June 2023) that consists of a football field with roof, skate park, community garden, outdoor restaurants, etc., connected nearby. All of which makes the area a new place for building community, and contributes to the development of Binh Duong New City.