BINH DUONG HOSTS WTCA ASIA PACIFIC REGIONAL MEETING – WTCA APRM 2023
Early August 10, the 2023 Asia Pacific Regional Meeting of the World Trade Centres Association (WTCA) under the theme of "Transforming WTC operations in the digital age" was officially opened at Binh Duong Convention and Exhibition Center.
Attending the event comprised of Mr. Nguyen Van Loi- member of the Party Central Committee, Secretary of the Provincial Party Committee, Head of the Provincial National Assembly Deputy Delegation; Mr. Vo Van Minh – Deputy Secretary of the Provincial Party Committee, Chairman of Binh Duong Provincial People's Committee; Ms. Nguyen Minh Thuy –  Head of Organization Committee of the Provincial Party Committee; Ms. Nguyen Thi My Hang – Chairwoman of the Vietnam Fatherland Front Committee of Binh Duong Province; Mr. Nguyen Van Hung, Chairman of Becamex IDC Corporation; Mr. Pham Ngoc Thuan, General Director of Becamex IDC Corporation; and leaders of departments, agencies, and businesses in the province.
On the WTCA side, there was Ms. Crystal Edn – Executive Director of Member Services, WTCA; Mr. Scott Wang – Vice President of World Trade Center Association Asia – Pacific; along with WTC members in the region attended the forum.
Developing a service ecosystem
This meeting is held to mark the return of exciting trade and investment connection activities in the Asia-Pacific region. Speaking at the opening ceremony,  Mr. Vo Van Minh, chairman of Binh Duong province, hopes that through a network of global WTCs, the WTC Binh Duong New City, together with agencies and businesses in and out of the province, will create innovation programs, support global technology enterprises to enter the market of Binh Duong and Vietnam, and improve the capacity of enterprises in Binh Duong and the whole country. Through this meeting, Binh Duong hopes to find important breakthrough solutions, contributing to the development of an increasingly dynamic economy, meeting international integration requirements, effectively serving the process of industrialization and modernization, and successfully realizing the goal of developing Binh Duong into a smart city to bring a better life to people.
Mr. Vo Van Minh stated that Binh Duong is one of the most developed industrial regions in Vietnam, with 29 industrial parks and 12 industrial clusters; the economic scale of the total product in Binh Duong province in 2022 will exceed 459 trillion VND; and the GRDP per capita will reach 7,000 USD/year. Binh Duong has attracted more than 4,100 FDI projects with a total capital of over 40 billion USD from 65 countries and territories for investment, production, and business, making it the second city in Vietnam in terms of attracting FDI.
The Chairman of Binh Duong Provincial People's Committee spoke at the forum.
Crystal Edn, Executive Director-Member Services for the WTCA highly appreciated the organization of the WTC Binh Duong New City. She emphasized that WTCA Asia has recognized the rapid development of WTC Binh Duong New City as well as the development promotion from the province and Becamex IDC with the smart industrial – urban – service model and associated with science, technology, and innovation. The forum is a special event organized to create conditions for members to meet, share, and discuss potential and development plans in the future.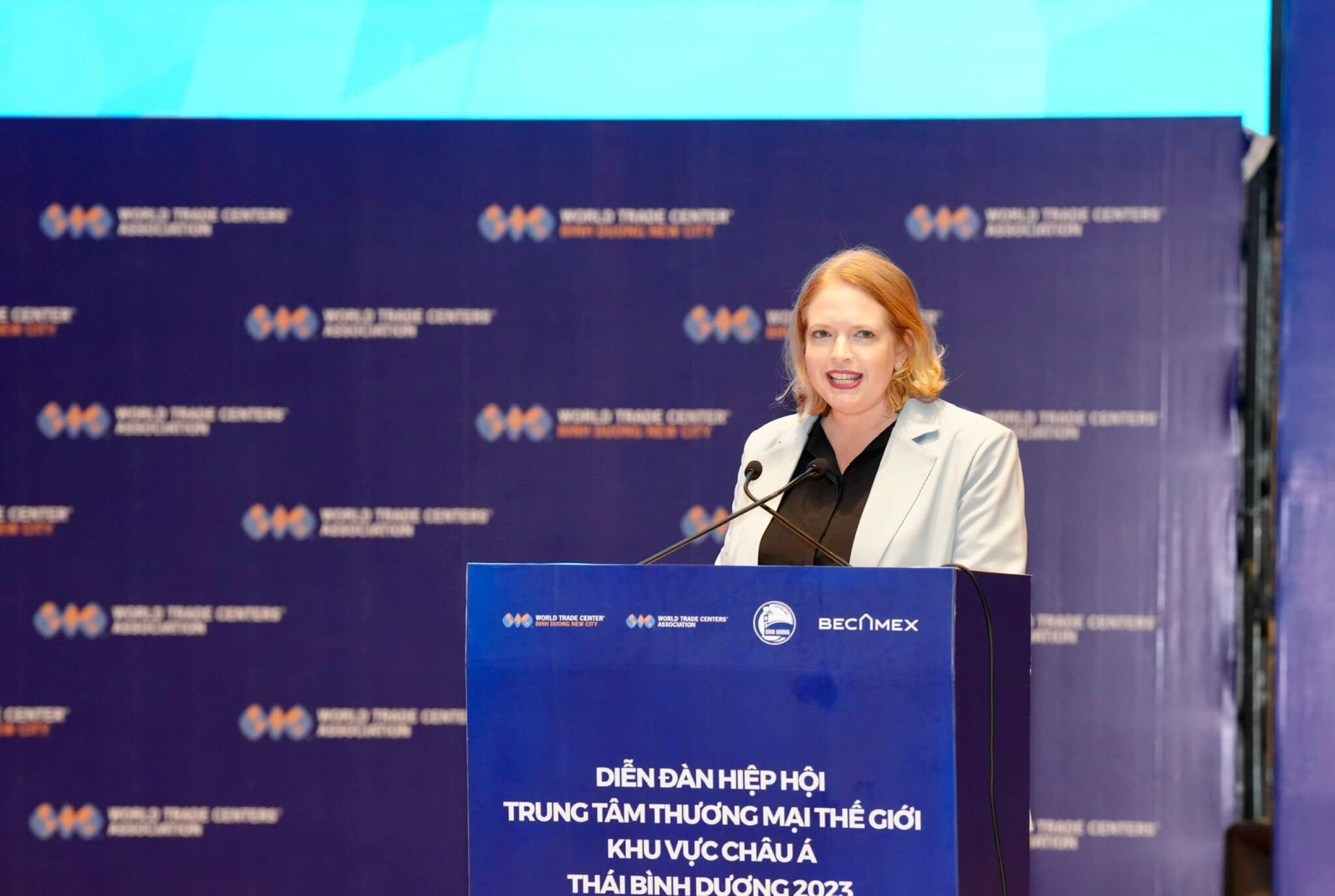 Ms. Crystal Edn – Executive Director, Member Services  (WTCA) spoke at the forum.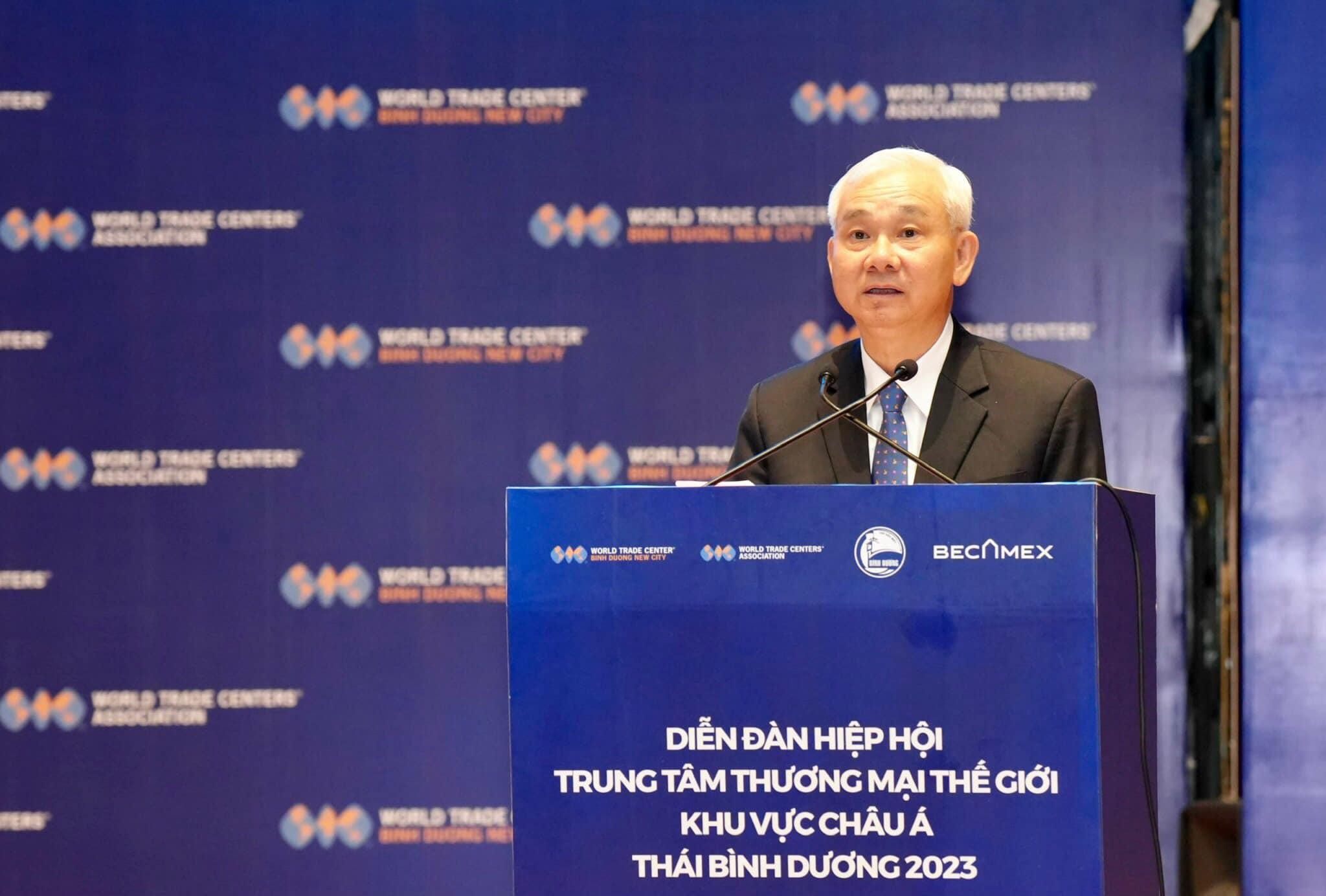 Mr. Pham Ngoc Thuan – CEO of spoke at the forum.
Speaking at the meeting, Pham Ngoc Thuan, General Director of Becamex IDC, expressed his belief in further investing in infrastructure through the completion of the WTC EXPO international exhibition building, the WTC Tower office complex building, and the groundbreaking of the construction of Area A1 (also known as the WTC Gateway), which is an important foundation for the completion of this ecosystem. Along with its commitment to invest in building material facilities, Becamex IDC will further perfect its human resources, full of skills in global trade promotion, to provide professional services under ASEAN-MICE standards in the next years.
Open opportunities
The 2023 Asia Pacific Regional Meeting of the WTCA will have plenary sessions, dialogue sessions, and keynote speeches. The speakers will meet and discuss topics on the environment, investment opportunities in Binh Duong, digital transformation and commercial development, exhibitions, real estate, etc., bringing necessary information to delegates. In addition, the local field trips will provide multi-dimensional perspectives and opportunities for effective cooperation on the basis of the strengths of the parties.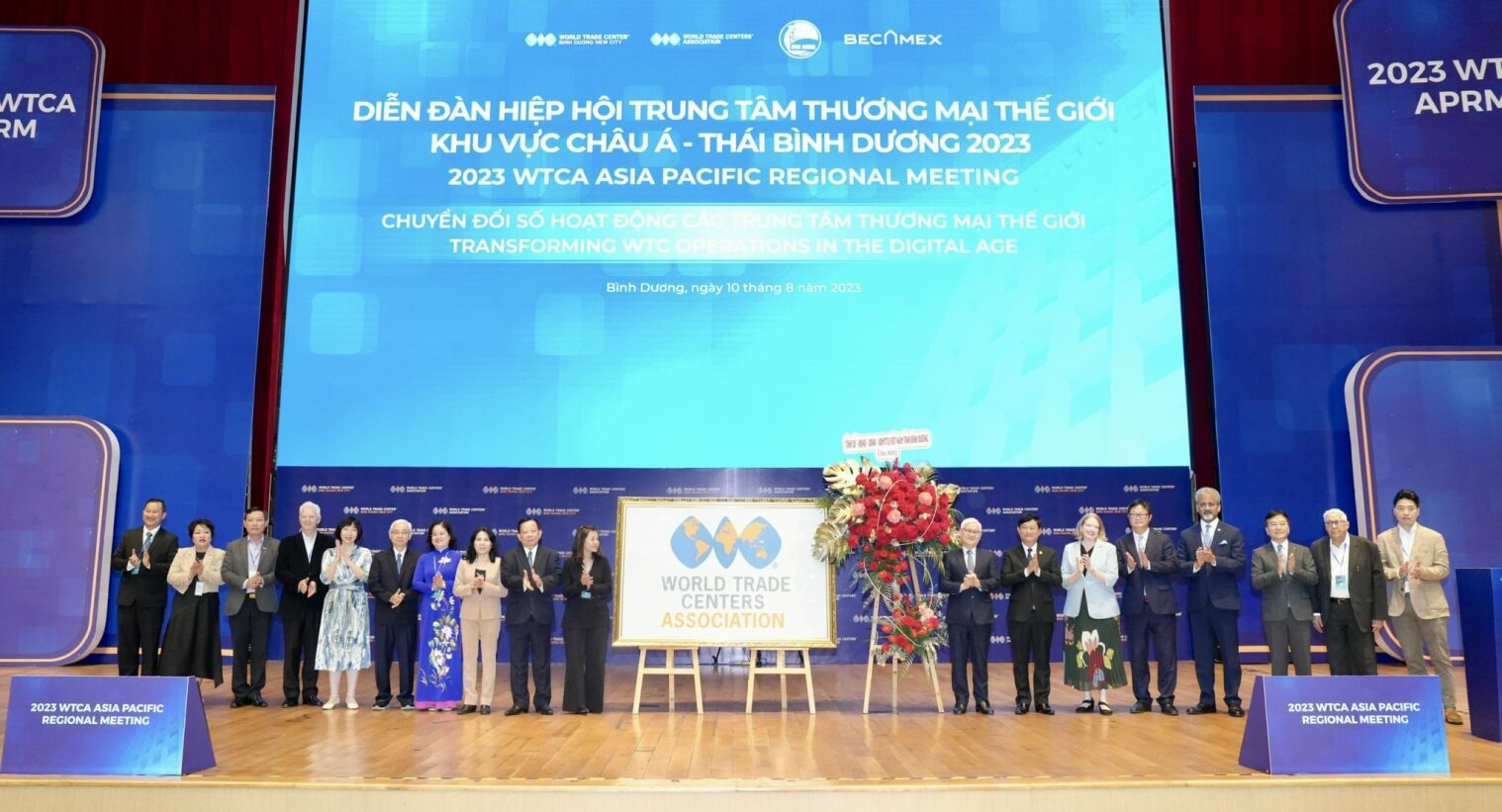 Leaders of the province and Becamex IDC present flowers as congratulation to the WTCA
At the session on business and investment opportunities in Binh Duong, Huynh Dinh Thai Linh, Director of the WTC Binh Duong New City, said that after four years of establishment and development, the WTC Binh Duong New City has shaped itself to become a new destination and a center connecting domestic and foreign trade through events with many topics such as smart city development, science and technology, innovation, and global digital transformation.
"More than 150 businesses now participate in WTC Binh Duong New City's activities as connecting members and are progressively enhancing trade promotion support services for local businesses. At the same time, attracting exhibitions to the province of Binh Duong, and promoting investment and trade connections between domestic and foreign partner businesses with WTC members in Asia, said Ms. Huynh Dinh Thai Linh.
Becamex IDC has contributed to the development of WTC Binh Duong New City. Becamex IDC is a pioneering organization that is always at the vanguard of local activities. The relationship between the new service ecosystem and the province's smart city development strategy is close.
Presenting about business and investment opportunities in Binh Duong, Vo Son Dien, Marketing Director of Becamex IDC, introduced the local economic development. Binh Duong has become an attractive destination for foreign businesses. Many large corporations have chosen Binh Duong as their main production location. Particularly, Becamex IDC is playing an important role in developing the green industrial park ecosystem. Mr. Dien shared that in the coming time, Binh Duong will focus on developing science and technology associated with the development of industrial manufacturing and high-tech agriculture. ..
At the thematic discussion session on the business environment in Vietnam, Nguyen Duc Binh, Director of the Center for Small and Medium Enterprise Development in Ho Chi Minh City, said that small and medium-sized enterprises (SMEs) in Vietnam have made important contributions to the economy. Currently, the implementation of digital transformation by SMEs is still low, so business owners need to change their thinking. To be successful, enterprises need to strengthen their capacity to apply science and technology in production and business.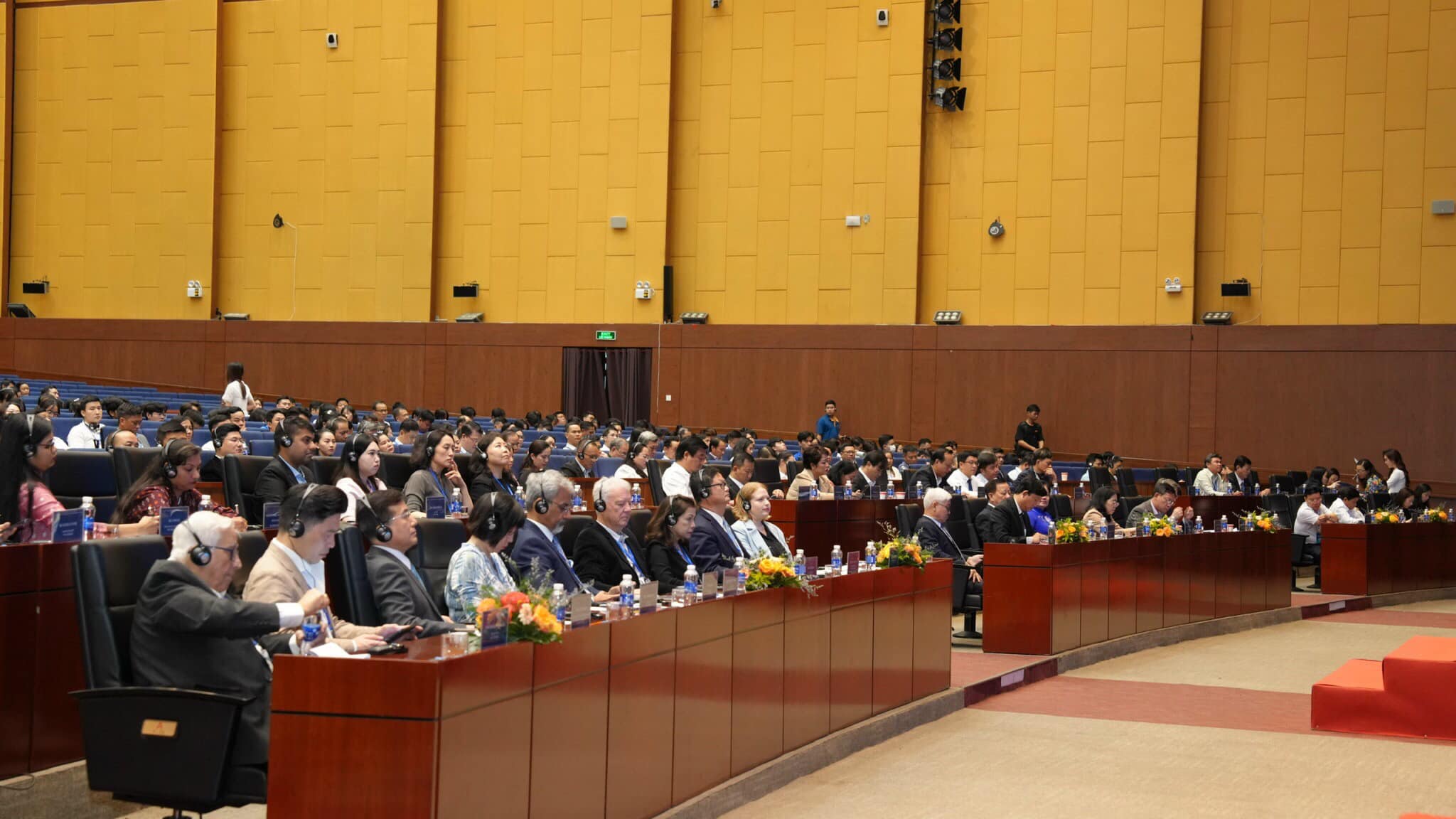 Photo at the forum
Sharing about the topic of startup business, innovation, and entrepreneurship for sustainable economic development, Dang Tan Duc, Director of the Industrial Park and Block 71 Project Management Board under Becamex IDC, informed delegates of economic growth, attracting foreign investors. Mr.Duc said that Vietnam is emerging as an industrial center in Southeast Asia and is in the process of transitioning from mere industrial production to innovation for development. Binh Duong needs to further improve the local investment climate, build up an innovation ecosystem, invest in Faplaps and digital systems, and support SMEs in digital transformation.
A session on service industries that are developing rapidly in Binh Duong province, such as exhibition, real estate, and trade – service, is expected to take place within the framework of the meeting.